Alumat supplies future-proofed entrance matting solution for 125 Queen Street.
125 Queen Street, Auckland, home to the iconic BNZ Tower, is undergoing a major development. Once the state-of-the art refit is complete, it is anticipated to become 'the best address on Queen Street'.
Critical to the project's success is creating the very best first impression to assure tenants and visitors alike that this is a development of the highest quality. Alumat Flooring Solutions is pleased to have been involved in the supply of mats on this project at all major points of entry, including the feature circular revolving door.
The product selected was Alumat AL15 HD I with an extra heavy duty aluminium frame, matched with the Dutch manufactured Vebe black infill; a hard wearing polypropylene loop pile. This combination provides a tough, hardwearing surface, which keeps its good looks and will perform well for many years.
This box-section aluminium is virtually indestructible, being made from corrosion-resistant anodised alloy, (6063 T5). The special alloy frames are guaranteed for 20 years, but correctly installed, will last for much longer.
Product Used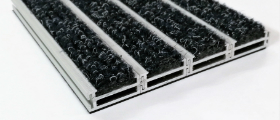 15mm deep. Sturdy interlocking design, with heavy duty option available.
View our full range of flooring solutions.