For deeper recesses with wider profile and draining.
Mat Features
Designed for mat wells 15-18mm deep, but thicker backing if required.
Extra heavy duty frames have 10 year refurbishable warranty.
Ideal for use inside, undercover or sheltered situations.
Exceeds all fire safety requirements (EN ISO 9239 -1 Critical Flux 8≥Kw/m2)
Mat Overview
Alumat 15 I is an intense-wear mat designed to fit into a 15mm deep mat well, in both inside and outside weather-protected environments. Being fully supported and of an extra thick profile, it will last and last. Infills have the usual five-year wear warranty, but our HD mat frames can be refurbished with new infills to look and perform as new, for only around 30% of the new mat price.
Fully interlocking, Alumat 15 I can be easily made into irregular shapes if required. As with all of our aluminium entrance mats, we use only the best materials, silver anodised 6063-T5 exterior grade magnesium alloy, and non-shrink Vebe Flame Retardant ribbed infills made in the Netherlands.
Alumat 15 I series mats are covered by our standard 5-year wear warranty on infills, and our 10-year base refurbishment guarantee.
Download and add to your design library.
(PDF, 0.4MB)
Specifications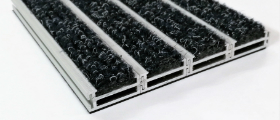 Alumat 15 I Series
| | |
| --- | --- |
| Height | 15mm |
| Weight | 20.5 kg/sq m |
| Construction | Interlocking |
| Profile Width | 38mm |
| Infill Width | 28mm |
| Infill Width % | 78% |
| Location | Inside or weather protected |
| Crush Resistance | 2,000 kg/sq m |
| Fire Resistance | ISO9239-1 compliant |
Infill Options
Black
Brown
Red
Silver
Sisal