For deeper recesses with draining channels.
Mat Features
Designed for mat wells 15-20mm deep.
Extra heavy duty frames have 20 year refurbishable warranty.
Ideal for use inside or outside in weather-exposed situations.
Exceeds all fire safety requirements (EN ISO 9239 -1 Critical Flux 8≥Kw/m2)
Mat Overview
Alumat 15 D is an intense-wear mat of closed construction with water drain channels designed to fit into a 15-20mm deep mat well, in both inside and outside environments. Being fully supported and of an extra thick profile, it will last and last. Infills have the usual five-year wear warranty, but our HD mat frames can be refurbished with new infills to look and perform as new, for only around 30% of the new mat price.
Its unique draining and closed construction enables improved water handling ability with no fall-through or under-mat soiling. For ongoing maintenance, only surface cleaning is required to keep the mat in good condition.
Fully customisable, Alumat 15 D can be easily made into irregular shapes if required. As with all of our aluminium entrance mats, we use only the best materials, silver anodised 6063-T5 exterior grade magnesium alloy, and non-shrink Vebe Flame Retardant ribbed infills made in the Netherlands.
Alumat 15 D series mats are covered by our standard 5-year wear warranty on infills, and our 20-year base refurbishment guarantee.
Download and learn more.
(PDF, 0.3MB)
Specifications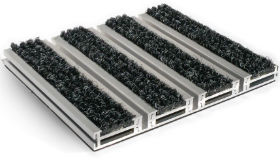 Alumat 15 D Series
| | |
| --- | --- |
| Height | 15mm |
| Weight | 20.5 kg/sq m |
| Construction | Interlocking |
| Profile Width | 50mm |
| Infill Width | 28mm |
| Infill Width % | 60% |
| Location | Inside or outside |
| Crush Resistance | 2,000 kg/sq m |
| Fire Resistance | ISO9239-1 compliant |
Infill Options
Black
Brown
Red
Silver
Sisal